Image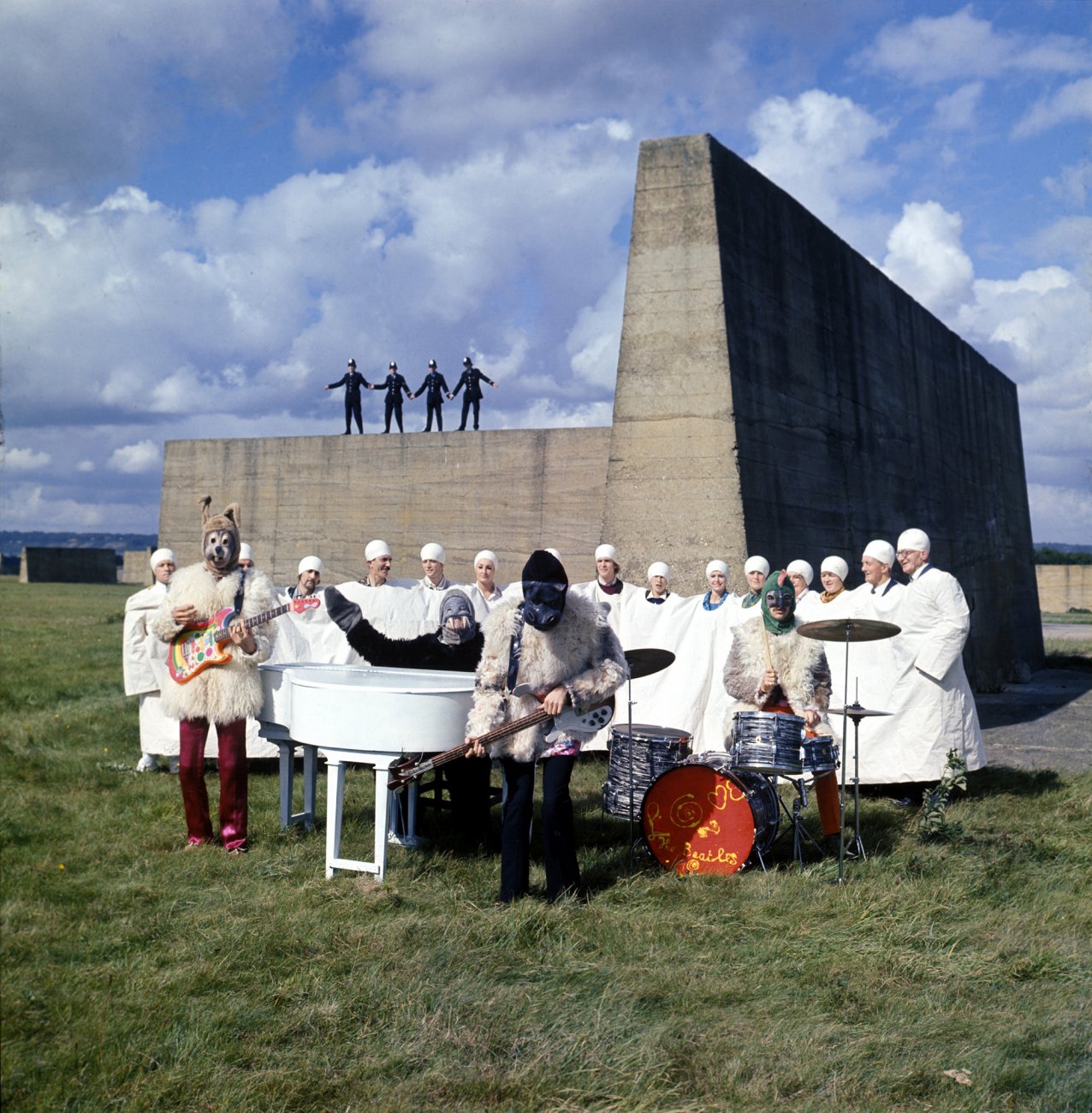 Film
Magical Mystery Tour
Released 26th December 1968

"We said to everyone: 'Be on the coach on Monday morning.' I told them all, 'We're going to make it up as we go along, but don't worry - it'll be all right.'"
"It was good. We would get off the bus: 'Let's stop here,' and go and do this and that. Go on the beach, draw a heart, dance. Then we'd put the music to it. It took two weeks to film and a long time to edit."
"In the time that had elapsed since A Hard Day's Night and Help! - although it was probably only two years - it was as if we'd gone through five hundred years mentally. We didn't see any way of making a similar film of four jolly lads nipping around singing catchy little tunes. It had to be something that had more meaning."
"They thought we were stepping out of our roles. They'd like just to keep us in cardboard suits that were designed for us. Whatever image they have for themselves, they're disappointed if we don't fulfil it. And we never do, so there's always a lot of disappointment."
Away in the sky, beyond the clouds, live 4 or 5 Magicians. By casting wonderful spells they turn the Most Ordinary Coach Trip into a Magical Mystery Tour. If you let yourself go, the Magicians will take you away to marvellous places. Maybe you've been on a Magical Mystery Tour without even realising it. Are you ready to go?
The Beatles produced this film around a coach journey across England. It features a series of musical vignettes, interspersed with scenes of comedy and fantasy. It includes tracks such as Magical Mystery Tour, The Fool On the Hill, Your Mother Should Know, and I Am The Walrus.
"Having been involved in feature films such as A Hard Day's Night and Help! The Beatles wanted to make a film that was in keeping with the spirit of the times. So in the summer of 1967 we came up with a scenario that would keep the project extremely freewheeling.
At the time Richard Lester, the director of our first two films, was quoted in Rolling Stone as saying "They should make their next film themselves, just the way they make an album. I mean that it should grow organically rather than having the professional cult of film making superimposed upon it."
I took over most of the responsibility of pulling this together. We remembered mystery tours from when we were growing up in Liverpool which would take people on a bus trip without them knowing the ultimate destination. So that's what we did. We wrote a basic story outline starting with a hand drawn pie-chart, recorded some songs, engaged some likely looking actors and along with a few friends set off in our brightly coloured bus heading towards the south west coast of England.
Most of the dialogue was improvised and would involve us talking to the actors, deciding a basic idea for a scene and filming it right away. None of us knew our destination, as in the mystery tours of our childhood, but we had a very enjoyable few days and then returned to London to sort out all the footage we had shot.
It turned out to be a wacky, impromptu romp that puzzled a few people at the time but as the years have gone by it now stands as a fond reminder of that period in our lives."
Paul McCartney, August 2012.
| | |
| --- | --- |
| John Lennon | John |
| Paul McCartney | Paul |
| George Harrison | George |
| Ringo Starr | Ringo |
| The Bonzo Dog Doo-Dah Band | The Bonzo Dog Doo-Dah Band |
| Jan Carson | Stripper |
| Ivor Cutler | Mr Bloodvessel |
| Victor Spinetti | Army Sergeant |
| Nat Jackley | Rubber Man |
| Jessie Robins | Ringo's Aunt |
| George Claydon | Photographer |
| Shirley Evans | Accordionist |
| Derek Royle | Jolly Jimmy |
| Mandy Weet | Hostess |
| Nicola | Little Girl |
| Maggie Wright | Starlet |
| Aubrey Dewar, Tony Busbridge, Daniel Lacamore & Michael Seresin | Cameramen |
| Michael Lax | Sound |
| Roy Benson | Editor |
| Roger Graham & Keith Liddiard | Design |
| Andrew Birkin | First Assistant |
| Denis O'Dell | Production |
| Gavrik Losey | Assisted by |
| Gordon Daniel | Sound Editor |
| Richard Starkey | Director of Photography |
| Giles Martin | Sound Producer |
| Allan Rouse | Project Coordinator |
| Matt Mysko | Assistant Engineer |
| Simon Gibson | Audio Restoration |
| Alastair Sirkett | Additional Sound Design |
| George Martin | Producer of Original Recordings |
| Geoff Emerick & Ken Scott | Original Recording Engineers |
| Paul McCartney | Director's Commentary |
| Francis Hanly | Filmed and Directed |
| Jonathan Clyde | Producer |
| Jeff Jones | Executive Producer |
| Martin R Smith | Line Producer |
| Joanna Crickmay | Editor |
| John Pritchard & Tim Humphries | Sound Recordist |
| Martin R Smith | Interviews |
| Jamie Selway | Programme Audio Mix |
| Jamie Shemeld & Mark Redfern | Online Editors |
| Perry Gibbs | Mastergrade |
| Shelley Baker & Isobel Goodrich | Production Assistants |
| Luke Cardiff | Additional Camera |
| Mike Sarah | Additional Lighting |
| Matthew Longfellow & Martin Cooper | Additional Editing |
| Archive | Apple Films Ltd & BBC Motion Gallery |
| Aaron Bremner | Archive Management |
| Chris Purkiss | Film Archivist |
| Dorcas Lynn | Research |
| Andrew Wright | Additional Film Research |
| Carl Bigmore | Photographic Consultant |
| Trish McGregor | DVD/Blu-Ray Production Manager |
| Metropolis Creative | DVD/Blu-Ray Design and Authoring |
| Darren Evans | Package Design |
| Nick Valner | Legal for Apple Films Ltd |
| Garth Tweedale | Business Affairs for Apple Films Ltd |